Series W Windows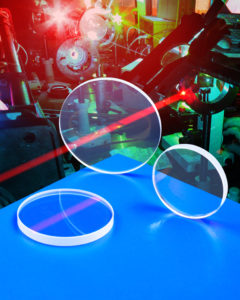 W Series windows are often used as vacuum seals in front of the output coupler or in other parts of a system that require sealing of vacuum or high pressure. ZnSe is typically used for this application and can be provided coated or uncoated. AR coating provides >98.5% transmission and reflection <.25% per surface at 10.6 microns. Absorption values do not exceed .25%.
Other diameters, thicknesses and wavelengths are available upon request.
*Prices listed are for small quantity orders, for large quantity discounts please Contact Us.
Showing 1–9 of 31 results
Catalog No.
Material
Diameter
Thickness
Coating
QOH
Price
Order
W-0508-Z-DBAR
ZnSe
0.500"
0.080"
AR/AR
31

$

85.00
W-0508-Z-UC
ZnSe
0.500"
0.080"
Uncoated
0

$

0.00
Contact Us
W-0512-Z-DBAR
ZnSe
0.500"
0.120"
AR/AR
0

$

65.00
Contact Us
W-0512-Z-UC
ZnSe
0.500"
0.120"
Uncoated
0

$

80.00
Contact Us
W-0708-Z-DBAR
ZnSe
0.750"
0.080"
AR/AR
0

$

95.00
Contact Us
W-0708-Z-UC
ZnSe
0.750"
0.080"
Uncoated
0

$

70.00
Contact Us
W-0712-Z-DBAR
ZnSe
0.750"
0.120"
AR/AR
0

$

110.00
Contact Us
W-0712-Z-UC
ZnSe
0.750"
0.120"
Uncoated
0

$

85.00
Contact Us
W-1008-Z-AR
ZnSe
1.000"
0.080"
AR/AR
9

$

145.00
W-1008-Z-UC
ZnSe
1.000"
0.080"
Uncoated
17

$

120.00
W-1012-Z-AR
ZnSe
1.000"
0.120"
AR/AR
16

$

150.00
W-1012-Z-UC
ZnSe
1.000"
0.120"
Uncoated
37

$

160.00
W-1112-Z-AR
ZnSe
1.100"
0.120"
AR/AR
34

$

175.00
W-1112-Z-UC
ZnSe
1.100"
0.120"
Uncoated
5

$

150.00
W-1512-Z-AR
ZnSe
1.500"
0.120"
AR/AR
10

$

190.00
W-1512-Z-UC
ZnSe
1.500"
0.120"
Uncoated
0

$

175.00
Contact Us
W-1520-KCL-UC
KCl
1.500"
0.200"
Uncoated
0

$

40.00
Contact Us
W-1525-Z-AR
ZnSe
1.500"
0.250"
AR/AR
0

$

200.00
Contact Us
W-1525-Z-UC
ZnSe
1.500"
0.250"
Uncoated
5

$

185.00
W-2012-Z-AR
ZnSe
2.000"
0.120"
AR/AR
2

$

275.00