Series ZPR Zero Phase Retardation Reflectors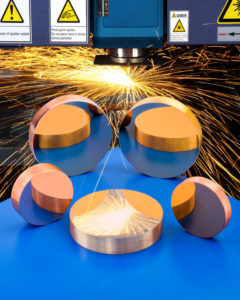 These reflectors utilize a highly enhanced zero phase thin-film coatings applied to either a silicon or copper mirror substrate. This specialized design provides the basis for a low loss polarization insensitive CO2 laser mirror designed to maintain the circular polarization of the beam's delivery system.
*Prices listed are for small quantity orders, for large quantity discounts please Contact Us.
View Category Specifications
Coating
Zero Phase Plasma Gold on Copper
Phase Shift:
0.0 deg. +/- ½ deg. between P and S polarization
Reflectance:
Normal Incidence: 98.9% Average minimum

45 Degree Incidence (p-POL): 97.6% minimum

45 Degree Incidence (s-POL): 99.1% minimum

Absorption and Scatter:
< 0.3%
| Coating | Zero Phase Copper on Silicon |
| --- | --- |
| Phase Shift: | 0.0 deg. +/- 2.0 deg. between P and S polarization |
| Reflectance: | 99.7% Avg. @ 10.6 microns at 45 deg. AOI < 50% @ 0.633 microns at 45 deg. AOI |
| Absorption and Scatter: | < 0.3% |
| Specifications: | |
| --- | --- |
| Diameter Tolerance: | + 0.000″ / – 0.005″ |
| Thickness Tolerance: | +/- 0.010″ |
| Mechanical Wedge: | < 5 minutes of Arc Maximum |
| Flatness: | < 1/40th wave |
| Finish(Scratch-Dig): | 20-10 |
Showing 1–9 of 30 results
Catalog No.
Material
Diameter
Thickness
Coating
QOH
Price
Order
ZPR-0704-S-0
Si
0.750"
0.040"
ZeroPhaseShift
16

$

50.00
ZPR-0712-S-0
Si
0.750"
0.120"
ZeroPhaseShift
23

$

60.00
ZPR-1012-S-0
Si
1.000"
0.120"
ZeroPhaseShift
162

$

70.00
ZPR-1125-C-PLG
Cu
1.100"
0.250"
PlasmaGold
2

$

205.00
ZPR-1516-S-0
Si
1.500"
0.160"
ZeroPhaseShift
33

$

100.00
ZPR-1816-S-0
Si
1.750"
0.160"
ZeroPhaseShift
4

$

110.00
ZPR-2020-S-0
Si
2.000"
0.200"
ZeroPhaseShift
30

$

165.00
ZPR-2038-C-PLG
Cu
2.000"
0.375"
PlasmaGold
0

$

300.00
Contact Us
ZPR-2038-S-0
Si
2.000"
0.375"
ZeroPhaseShift
0

$

260.00
Contact Us
ZPR-2339-C-PLG
Cu
2.250"
0.394"
ZeroPhaseShift
0

$

410.00
Contact Us
ZPR-3025-C-PLG
Cu
3.000"
0.250"
ZeroPhaseShift
0

$

305.00
Contact Us
ZPR-3025-S-0
Si
3.000"
0.250"
ZeroPhaseShift
4

$

235.00
ZPR-3038-S-0
Si
3.000"
0.375"
ZeroPhaseShift
0

$

270.00
Contact Us
ZPR-3050-C-PLG
Cu
3.000"
0.500"
ZeroPhaseShift
0

$

360.00
Contact Us
ZPR-3050-S-0
Si
3.000"
0.500"
ZeroPhaseShift
0

$

305.00
Contact Us
ZPR-3059-C-PLG
Cu
3.000"
0.590"
ZeroPhaseShift
0

$

350.00
Contact Us
ZPR-WC-20B1-C-PLG
Cu
2.000"
2.125"
PlasmaGold
0

$

425.00
Contact Us
ZPRM-4007-C-PLG
Cu
40.00mm
7.50mm
ZeroPhaseShift
0

$

175.00
Contact Us
ZPRM-5005-C-PLG
Cu
50.0mm
5.00mm
ZeroPhaseShift
0

$

180.00
Contact Us
ZPRM-5005-S-0
Si
50.00mm
5.00mm
ZeroPhaseShift
0

$

120.00
Contact Us