Series CM Copper Mirrors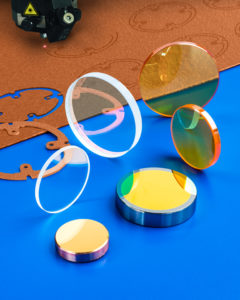 Manufactured from (OFHC) Oxygen Free High Conductivity Copper, these Plasma Gold Coated mirrors exhibit increased density and microhardness of the surface, allowing for frequent cleaning. They are ideal for use in beam delivery systems where constant cleaning is necessary.
*Prices listed are for small quantity orders, for large quantity discounts please Contact Us.
View Category Specifications
Coating:
Zero Phase Plasma Gold on Copper
Phase Shift:
0.0 deg. +/- ½ deg. between P and S polarization
Reflectance:
Normal Incidence: 98.9% Average minimum

45 Degree Incidence (p-POL): 97.6% minimum

45 Degree Incidence (s-POL): 99.1% minimum

Absorption and Scatter:
< 0.3%
| Specifications: | |
| --- | --- |
| Surface Accuracy (CC orCX): | < 1 micron |
| Flatness (Plano): | 1/20 λ maximum @ 10.6 um |
| Surface Quality: | 80-50 per MIL-PRF-13830. |
| Surface Roughness: | < 30 Angstroms Ra |
Showing all 3 results
Catalog No.
Material
Diameter
Thickness
Radius
Coating
QOH
Price
Order
CMCCM-5032-3.00M-UC
Cu
50.00mm
31.75mm
3.00 M
PlasmaGold
0

$

585.00
Contact Us
CMCCM-5095-C-2.44M-PLG
Cu
50.00mm
9.50mm
2.44 M
PlasmaGold
0

$

375.00
Contact Us
CMCXM-5009-1.737MCX-C-GP
Cu
50.00mm
9.50mm
1.737 M
PlatedGold
0

$

565.00
Contact Us